Season 2 - Image A Sound B+ Extras B+
"Seven Thirty-Seven," "Grilled," "Bit by a Dead Bee," "Down," "Breakage," "Peekaboo," "Negro y Azul," "Better Call Saul," "4 Days Out," "Over," "Mandala," "Phoenix," "ABQ"
Season 3 - Image A- Sound B+ Extras B+
"No Mas," "Caballo sin Nombre," "I.F.T.," "Green Light," "Mas," "Sunset," "One Minute," "I See You," "Kafkaesque," "Fly," "Abiquiu," "Half Measures," "Full Measure"
by Bryant Frazer "Breaking Bad"'s first season delivered a pulpy, compulsively watchable crime drama. I was a fan, but I found a lot to complain about, too. The show seemed ready to burst with hackneyed family drama, inane narrative tangents, and placeholder characters who pointed the way to tense moments without earning their screentime. I didn't even like AMC's key art for that first year, a dopey shot of protagonist Walter White (Bryan Cranston) standing in the middle of the desert, pantsless and packing heat. It turns out that "Breaking Bad"'s debut season, truncated to seven episodes by a writer's strike, was just an overture. The second season is a big, meaty pot roast of a show, cooking slow and low for eleven long hours. And that tour-de-force is damn near eclipsed by Season Three, which sees the series growing leaner and meaner than before, more forceful and more focused in its almost playfully outsized sense of menace.

Buy at Amazon USA
Buy at Amazon Canada
RUNNING TIME
47 minutes/episode
MPAA
Not Rated
ASPECT RATIO(S)
1.78:1 (1080p/MPEG-4)
LANGUAGES
English 5.1 DTS-HD MA
SUBTITLES
English
English SDH
French
REGION
A
DISC TYPE
3 BD-50s
STUDIO
Sony

Buy at Amazon USA
Buy at Amazon Canada
RUNNING TIME
47 minutes/episode
MPAA
Not Rated
ASPECT RATIO(S)
1.78:1 (1080p/MPEG-4)
LANGUAGES
English 5.1 DTS-HD MA
SUBTITLES
English
English SDH
French
Spanish
REGION
A
DISC TYPE
3 BD-50s
STUDIO
Sony
Watching "Breaking Bad" on Blu-ray Disc, it's apparent that creator Vince Gilligan is working on an extraordinary television opus about the American middle class that amplifies the drama of getting by to furious, thunderous proportions. Walter, a proud high-school chemistry instructor who finds himself struggling amid the ranks of the terminally ill and the underemployed, starts interrogating middle-American ideas of manhood and the American dream as he faces down his own mortality. Call it Death of a Schoolteacher.
The show's central premise--middle-aged white guy, faced with huge bills for cancer treatment, decides to cook meth in order to better provide for his family when he's gone--is an enviable gimmick, but Gilligan subverts it by making Walter an asshole. I don't mean that he's unlikeable; I like Walt very much. But he's clueless about a great many things. Worse, his actions are pointedly indefensible. A schoolteacher with cancer is a sympathetic character, sure, but people make choices, and Gilligan underlines Walt's decisions with a fat red pen. Most egregiously, Walt declines a generous offer of financial assistance from a one-time business partner that would obviate any need to generate large sums of cash. (Though it's not explained in detail, part of the "Breaking Bad" backstory has Walt ending up on the losing corner of a love triangle and ducking out of what would have been a highly lucrative business endeavour, presumably to nurse his bleeding masculinity.) Thus the crux of "Breaking Bad" is not simply a man's health and welfare, but his pride as well. Walt may be a schoolteacher with cancer, but he's also a big swinging dick.
There's an element of class privilege at work, too. Walt is an Albuquerque homeowner and family man who at a glance--which is all the attention most observers pay him--fits most definitions of mild-mannered. Yes, his incontestable whiteness makes him stand out among the Latino and South American dealers and wannabe kingpins working the Albuquerque streets, yet he manages a surprisingly well-executed power play that gives him considerable sway in the underground. And his race and demeanour allow him the great advantage of not worrying, especially, about arousing suspicion aboveground--certainly not that of Hank (Dean Norris), his beefy brother-in-law DEA agent, whose familial regard for him is cut with an undercurrent of jockish condescension. As "Breaking Bad" shifts into high gear, Walt is largely the same brilliant but uptight genius-hall-monitor type we met in Season One. But when he pulls a porkpie hat over his chemo-hairless cranium and assumes the streetwise-science sobriquet of Heisenberg, he taps reserves of steely confidence and menace. In short, he blossoms.
This isn't "The Sopranos", where storylines and character arcs evinced David Chase's tangible distaste for the hypocrisy and moral cowardice of his characters. While Walt's ineluctable moral decay is well-documented, Gilligan is a showman, and "Breaking Bad" makes sure to supply its audience with a grim good time. Often, the fun is in guessing what kind of explosive holy-shit moment is coming next. Sometimes it takes weeks, but you know it's on the horizon. As an example, Season Two opens with probably the most ominous flash-forward in the history of episodic television: a scorched child's toy, one eye popped out, bobs underwater, floating towards the trap in the White family swimming pool. Evidently, very bad things will happen, though it will take a dozen more episodes for the extent of the devastation to become clear.
This isn't "The Wire", either. Because "Breaking Bad" makes no special claims to grittiness or social observation, its jubilant gamesmanship doesn't detract as much as it would from a more naturalistic show. Its makers are basically taunting the audience for an entire season, daring them to guess, almost certainly incorrectly, what's going to happen. It's a bit of a distraction, but it's also an expression of personality, or an inside joke--a way for the writers to assert their badass credentials with the confidence of Heisenberg himself.
Over the course of a dark, tense second season and a somewhat more action-oriented third, Gilligan's crew breathes new life into characters that could have easily grown stale. Aaron Paul's Jesse Pinkman comes into his own as he starts facing down his profession as drug dealer (not to mention his personal status as addict) and making a play for the literal girl next door. Hank never recognizes the killer inside his in-law, but it's fun to watch him get perilously close to the truth. Gus Fring (Giancarlo Esposito), the cool-as-a-cucumber owner of chicken franchiser Los Pollos Hermanos, happens also to be a big-time drug lord in the American Southwest--the sort of businessman who can afford to outfit a meth lab with the finest gear, befitting a pro like Heisenberg. It's unclear that anyone could steal this show from its multi-Emmy-winning star, but through the course of Season Three Esposito does his level best to snake around Cranston's back and pick his damn pocket.
The arrival of Saul Goodman (Bob Odenkirk), a hilariously sketchy defense attorney, adds a layer of necessary levity to the proceedings. ("You don't need a criminal lawyer," Jesse counsels Walt, delivering the obvious joke with pained, deadpan timing: "You need a criminal lawyer.") Odenkirk plays this guy well, tempering what could be overly broad humour by giving Goodman a healthy degree of self-awareness. He's a lawyer-cum-performance-artist who likes to hear himself talk. And the main heavies of Season Three, a pair of scowling vato siblings who cross the border with vengeance on their minds, personify death with such thuggish élan they could have stepped right out of the pages of a comic book--I'm sorry, graphic novel. Anyway, Gilligan, an "X Files" veteran, obviously gets that realism is overrated. Creating new mythologies is more exciting.
Walt's wife Skyler (Anna Gunn) has the more thankless task of personifying a buzzkill for most of Season Two, calling out the various lies Walt tells to conceal his secret identity and finally--naturally--kicking him out of the house. If this business grows a little tedious because their split and, yes, eventual reconciliation both feel like foregone conclusions, the effort pays off in Season Three, when Walt insinuates himself back into the family unit, leveraging his relationship with his son and some moral rights (he is a co-owner of the property, after all) to get his way. He doesn't make a clean re-entry; a bitter and protracted power struggle ensues as Skyler kicks back in the best ways she knows how.
Contrast her character with that of Carmela Soprano. Carmela keeps the peace with husband Tony by wilfully ignoring his status as public enemy--her complicity a mark of shame. Say whatever you might about Skyler's eventual culpability in Walt's misdeeds (and it's not at all clear that she understands her husband would actually resort to murder to protect his interests), she's a brave woman. What happens between Skyler and Walt is a negotiation, Walt trying to return his home life to some semblance of suburban normal, Skyler offering him a cool handshake but not a warm embrace. He wants to see his kids. Coincidentally, she has some ideas about how all that cash can be put to good use. Deal.
In fact, negotiation is a defining concept in this universe. The series began with Walt striking an uneasy alliance with Jesse, his former student, then ramped up as the duo found themselves interacting with ever more unsavoury characters in a bid to get their wares onto the street. Walt's every conversation with Gus Fring is a teetering verbal duel between a puffed-up meth-cooker and a battle-tested businessman who, if so inclined, could have the schoolteacher buried out in the sand by a henchman and never once think of him again. The third season, in particular, sees a dramatic escalation of this tension, with Walt calculating how best to maintain his value and Gus wondering how much trouble this ridiculous man is truly worth. The desert, one suspects, isn't big enough for the two of them. Grist for Season Four.
As the balance of power totters, subtly, this way and that, you sense the large-scale machinations going on as individual episodes home in on the personal stuff. Drug dealer Jesse reaches out for a soulmate. Skyler calculates the pros and cons of a sexual dalliance with her harried, book-cooking boss. A frustrated Hank loses his shit, tracking down a suspect and beating the holy hell out of him. Walt considers the shifting meaning of the word family as it applies to his own situation, and acts (or declines to act) accordingly. Gilligan and his team do right by these characters. By and large, you want them to be happy and it's disheartening to see them doing the wrong thing. Some of their actions merely dictate new directions for the story, while others have truly catastrophic consequences. The suspense comes in part from the difficulty of telling the difference.
Everyone on this show is, basically, fucking terrified all the time because they don't know what's lurking around the corner. Usually, it's nothing. Sometimes, it's a problem that needs to be solved. Occasionally, it's an absolute brutality, and not always in a Tony Soprano way. Sometimes in a surreal, David Lynch way. Season Three is punctuated by an array of violent, periodically garish white-knuckle set-pieces that history will recognize as among the most explosive moments ever committed to the small screen. Over the long haul of a full season, "Breaking Bad" becomes a highly controlled exercise in tension and release. Hours will go by with frustratingly little in the way of forward progress. Then Gilligan lets it rip, and death follows with him.
Click for hi-res BD captures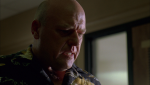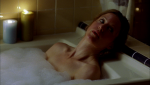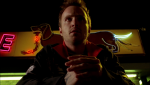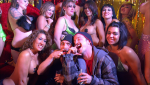 THE BLU-RAY DISCS
"Breaking Bad" on Blu-ray Disc is a joy to behold. AMC HD has fairly poor picture quality, even as basic cable channels go--lots of macroblocking during fast motion, colour-banding in the backgrounds, and a general lack of detail across the board. That means that, although the show is shot on 35mm film, you'd never know it to watch the sad, smeary broadcast version. The BDs restore most of that detail to the picture, including film grain. If anything, the Season Three discs have had that grain slightly softened, and occasionally I may detect the hint of a halo from artificial enhancement of the image. There's still plenty of texture there, but it lacks the prickly, pins-and-needles sharpness of similar shots in Season Two. Colours are remarkably deep and rich across the season sets, although one of cinematographer Michael Slovis's favourite colours is black. I'm not sure whether he crafts that look completely in camera or if some of the blacks are crushed in post, but this is one dark show. Characters' faces often fall partly or completely into silhouette, and you end up scanning the shadows for visual information (the twitch of a lip, a glimmer reflected in someone's eye)--a good argument for waiting for Blu-ray instead of watching the highly-compressed telecasts, if you've got the patience to do so.
Audio quality is likewise top-drawer. Both seasons are transferred with their original 5.1 soundmixes in the DTS-HD MA format for lossless sound reproduction, and the results are highly pleasing. The consistently well-recorded dialogue has a lot of presence at the front and centre of the mix, inviting you to tease out the nuances of every line reading. That's where the show stays, for the most part, though the front and surround speakers do pipe up with environmental and ambient sounds from scene to scene. The audio truly comes into its own when composer Dave Porter's thrumming, percussive score kicks in and fills out all five channels, as it does with each and every one of the show's abbreviated opening titles sequences. The sound department also makes the most of the occasional diegetic music, rocking the boom right into the LFE track. "Breaking Bad" rarely sounds as robust or adventurous as a full-on feature film, but it's more than solid where episodic television is concerned.
In fact, as long as the show and Sony's Blu-ray releases of it remain this good, the discs are a remarkable value even for devotees who catch the first-run episodes. Only four of the episodes from Season Two have audio commentary from cast and crew, but fully nine out of 13 Season Three eps receive the yak-track treatment. A giggly Gilligan and the always-jokey Cranston keep the mood lightly entertaining--sometimes frustratingly so--but Gilligan sits out three of these, changing the dynamic in the room and making more time for shop talk among mere mortals. I really enjoyed hearing cinematographer Slovis discuss the mechanics of lighting a scene in direct sunlight, moan about the low ceilings in one location, or argue the pros and cons of "crossing the line" while shooting two characters in conversation.
Another draw is the inclusion, on the Season Three discs, of a trio of episodes billed on the jacket as "uncensored." The presence in these episodes of a couple of F-words and, in the cold open where Jesse blows Walt's life savings at a strip club (spoiler!), two or three nipples, would barely be worth commenting on except inasmuch as they reveal the abject stupidity of your typical basic cable standards-and-practices regimen. (Psst! Guys! The FCC has no oversight over your programming and nobody else is going to blink over an isolated F-bomb in the fourth act of "Breaking Bad".) I suppose I can see the censor's argument that actual naked titties are a bit over the top in a scene already more than generously filled with pastie-plastered breasts, whether or not I disagree with it on principle. However, blanking out part of a key line of dialogue that is integral to character and story--in other words, it's the antithesis of gratuity--is treating viewers poorly. (If you've seen episode 3.3, "I.F.T.," you know exactly which word I'm talking about.) I do thank Sony Pictures for preserving the uncensored version on home video, where it will be enjoyed by posterity.
There's a ton more on these discs--too much to detail segment by segment. Most episodes are appended by deleted scenes (in workprint-quality SD) that generally total no more than a minute or two in duration. Some of them are mildly interesting, but in every case they confirm the smarts and sound judgment of the folks who cut them in the first place. Season Two boasts of a relatively interesting Blu-ray exclusive that shows how episode 13, "ABQ," was constructed in the writers' room, with story beats mapped out on index cards painstakingly hand-written by Gilligan himself. There is a modicum of interactivity that allows you to click through and read the script page(s) for a few of the scenes, which is great, although it raises the question of why not put all of the script pages online. (Or, for that matter, all of the episodes.) That would be a fantastic interactive feature, and perhaps unprecedented in the history of TV on DVD. Maybe full "Breaking Bad" scripts are considered trade secrets or something, but the writer's room is the fulcrum of any great TV show and I treasure those glimpses of how they work. Anyway, this extra gets an "A" for the idea but a "B" for the execution. (The Blu-ray exclusive from Season Three, a ""Breaking Bad" family photo album," is just a damn glorified slideshow, so boo to that.)
Each season set contains a heaping helping of gussied-up "behind the scenes" marketing materials originally created for distribution on the web, and this stuff may be more at home there. The standard-def "Inside 'Breaking Bad'" shorts, for instance, are your usual marketing guff, interspersing scenes from a given show with Cliff's Notes elevated only by the charisma of the cast members who deliver them. Still, I was immediately charmed by the "mini video podcasts," which take up more than an hour on the Season Three discs. Presided over by editor Kelley Dixon, these group chats are posted online as audio files as soon as an episode airs; here, they're presented with accompanying video--just crappy video from a tiny HD camera--from the recording sessions, which seem to take place in the cutting room. Taken together, podcasts plus featurettes plus commentaries add up to too much information, but superfans will appreciate the bounty.
There's a lot of silly BS in these packages, as well. Season Two includes a music video for the "Negro y Azul" "drug ballad" commissioned for the series, the "Better Call Saul" TV commercial promoting the services of attorney Saul Goodman, the obligatory gag reel, and an insipid series of mock "Cop Talk" shorts starring Dean Norris that drag the whole show down by association. Among the six "original webisodes," I suppose the one with Betsy Brandt in a sexy policewoman uniform ("Good Cop - Bad Cop") is the keeper, but they're all fairly disposable. Season Three boasts an even greater allotment of stuff--seven featurettes and 20 episodes of "Inside 'Breaking Bad'" in addition to a gag reel. I enjoyed "Hit and Run," a brief look at a very well executed scene of CG animation from "Half Measures," but it's mostly agreeably superficial material for short attention spans--which is ironic, since it'll take you all day to dig through, one bite-sized piece at a time. Originally published: August 11, 2011.